I got a webinar invitation today, and this is how it was
supposed
to look: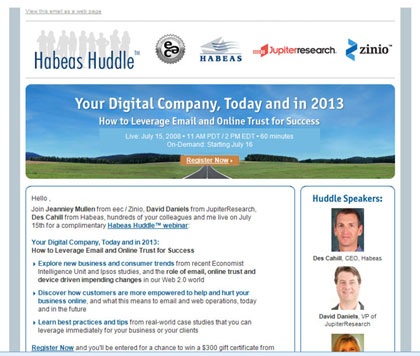 Pretty good-looking email right? But it wasn't all that attractive when I FIRST opened it in Outlook 2007. Here's what I saw: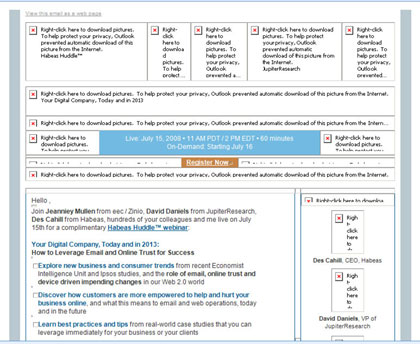 I think the illustration pretty much speaks for itself.
Almost all of the major email programs have "Images Off" as the default setting. So when designing your emails, be sure to keep that in mind. Your email should look decent (and more importantly, your message should still get through!) even when images are blocked.
Some helpful tips:
Never EVER send an email that's nothing but one big image!
Always provide a link to a web-based version of your email near the top of your message.
Keep your images small. If you absolutely NEED to show off your pics, provide links to a larger view on a separate page.
Use alt-tags for your images. An alt tag is alternative text that will display even when images don't.
Always TEST your email in different email programs to see how it displays on each, before sending out your actual campaign.
Remember, web and email readers are notorious for ADD (Attention Deficit Disorder). Chances are high they won't bother to click to download images, so the first view is always the most important.